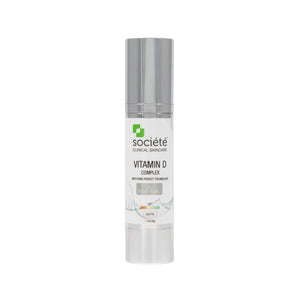 You've never seen a serum like this before! Introducing Société's latest innovation, Vitamin D Complex.
Our skin absorbs Vitamin D in 3 ways, through sunlight, food and supplements, but what happens if you're being sun smart? Premature ageing is our main concern, so Société have come up with a solution for avoiding UV while still getting your daily dose of Vitamin D. 
23% of Aussies are deficient in Vitamin D. Vitamin D is a powerful antioxidant that protects against cell degeneration and supports barrier function. Formulated with Vitamins B, C, D, E, F, peptides and hyaluronic acid, this serum suits ALL SKIN TYPES including sensitive and eczema prone. Apply after serums but before moisturiser AM + PM. This lightweight serum is like nothing else in your routine. Get excited!!
48g
Ingredients