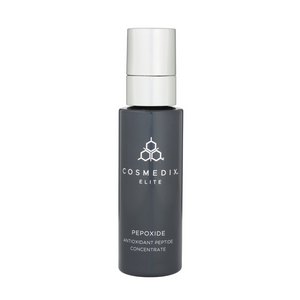 This is one of my fav anti aging serums. It contains a blend of Antioxidants and Peptides to help firm, brighten and protect the skin against environmental damage. It suits all skin types, including sensitive, and is pregnancy safe. This serum is definitely a must-have if you're wanting to introduce more anti aging products to your routine besides retinol. 
How to use: 
Apply AM + PM alongside your other serums before moisturising. 
30ml
Ingredients: 
Distilled Water (Aqua), Marine Oligopeptides (Dry Marine Collagen), Cococin, Witch Hazel (Hamamelis Virginiana) Extract, Mannitol, Sodium Gluconate, Citric Acid, Sodium Citrate, Waltheria Induca Leaf Extract, Dextrin, Ferulic Acid, Glycerin, Rhodiola (Rhodiola Rosea) Extract, Caffeine, Xanthan Gum, Totarol, Milk Thistle (Silybum Marianum) Extract, Resveratrol, L-Glutathione, Spin Trap (Phenyl Butyl Nitrone), Quercetin, BioAstin, Superoxide Dismutase, Benzyl Alcohol.