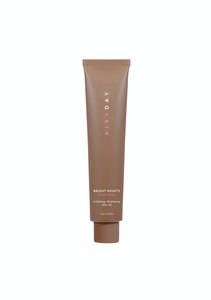 Meet your PM wonder woman. She might look cute, but this pillow-proof, bouncy gel mask has a powerful combination of exfoliants, Glycolic, Lactic and Lactobionic Acid to help remove the buildup of dead skin cells, encouraging cellular turnover to leave skin feeling smooth and looking radiant. Plus, moisture attracting ingredients Hyaluronic Acid and Glycerin keep skin hydrated for optimal function. Suitable for all skin types; sensitive skins should ease into use if skin permits. Scented with a fresh cucumber and pear.
For use as a sleep mask: Apply a light layer onto cleansed skin. Gently pat onto skin until absorbed and rinse off in the morning.
For use as a rinse-off mask: Apply a light layer onto cleansed skin. Gently pat onto skin until absorbed. Rinse off after 15-30 minutes.
Use it 1-2 times a week. Gradually work up to daily use.
*Skin stimulation in the form of light tingling, mild redness and skin warming is normal if your skin is not used to using chemical exfoliants like AHAs. For sensitive or reactive skin, patch test behind ear first. If in doubt, consult your dermatologist or skin specialist.
GOOD FOR: All skin types
CONCERNS: Dead skin build up, texture, lackluster tone, and anti-ageing
FEELS LIKE: Breathable, and bouncy gel
RESULT: Refined, bright and uber hydrated skin
SMELLS LIKE: Summer days of fresh cucumber and pear
GOOD BITS: Vegan friendly and cruelty free
Ingredient list:, Aqua, Sodium Hyaluronate, Polysorbate 20, Glycolic Acid, Lactic Acid, Lactobionic Acid, Glycerin, PEG-40, Hydrogenated Castor Oil, Sodium Benzoate, Hydroxyacetophenone, Hydroxyethylcellulose, Dimethicone, Xanthan Gum, Sodium Hydroxide, Iron Oxide( CI 77491), Titanium Dioxide (CI 77891), Fragrance.