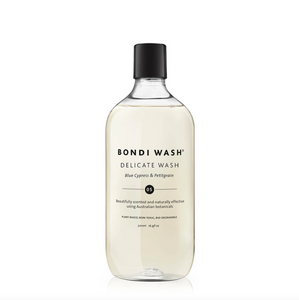 Bondi Wash Delicate Wash Blue Cypress & Petitgrain Laundry Detergent!
Designed for delicate fabrics (YOUR TEGANMAC.SKIN SILK PILLOWCASES!) that require a neutral pH such as silk, lace and sporting clothes. 
The gentle, 100% plant-based formula effectively cleans stains and removes odours with fragrant Australian native anti-bacterial ingredients. Suitable for those experiencing skin irritation from strong synthetic perfumes and aggressive additives in commercial detergents.
500ml bottle lasts 50 hand washes or 25 machine washes
To use:
Suitable for washing delicates including wool, linen, silk, and nylon. Pour two capfuls (10ml) into a bucket or sink for handwashing. For machine washing in a front loader, use 4 capfuls (20ml). For a top loader, use 4 capfuls (20ml) for an average load, and up to 6 capfuls (30ml) for a large load.
Keep out of direct sunlight and use within 12 months of opening.
Ingredients:
Purified water, plant-based surfactants, plant-derived alcohol, glycerin, citric acid, glyceryl capyrylate, Australian bush oils, essential oils, acacia senegal gum, sodium phytate.